Meridian Creek Construction Weekend Work
Dear West Linn-Wilsonville School District Subscriber,
Meridian Creek Middle School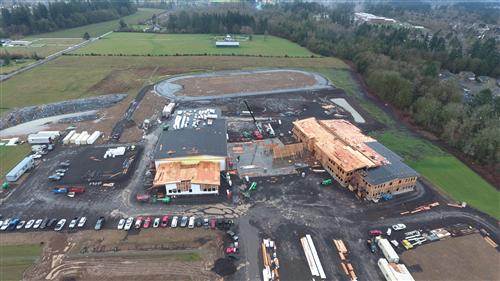 *SPECIAL NOTICE*
The Contractor will be working on Saturday, March 11, 2017. Work will include building framing, roofing, and interior mechanical rough in.
Due to weather sensitive roof installation, the Contactor may be working on Sunday March 12, 2017.
The contractor continues with progress on site including:
Wall framing for the commons wing.
Installation of Weather barrier
Masonry
Siding
During the week of March 13, the Contractor will continue building framing, plumbing rough-in, electrical rough-in, masonry, siding, and weather barrier.
Right of Way Project
During the week of March 13, work in the ROW will include overhead power relocation, and franchise utilities relocation. Flaggers will be present and short delays should be anticipated during working hours.
If you have any questions, please contact the Project Manager.
Anthony Vandenberg
503-956-6406
Thank YOU for supporting the Capital Bond and Local Option to make this work possible.
Be sure to visit the Bond Website to stay informed about projects district-wide.
Capital Construction Office Manager – Amy Berger