Superintendent Dr. Kathy Ludwig Named 2020 OALA Tom Ruhl Ally Award Recipient
Posted by West Linn-Wilsonville on 2/14/2020 3:00:00 PM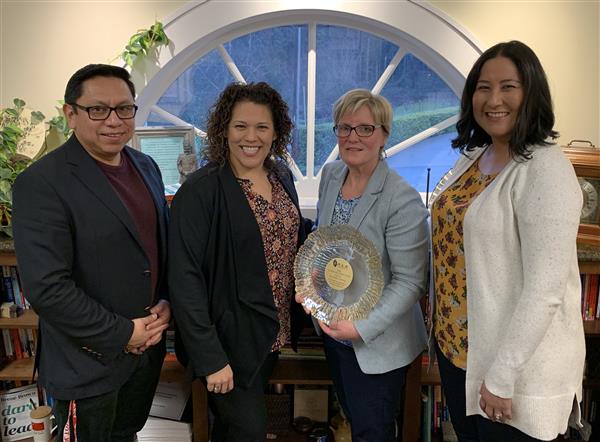 West Linn-Wilsonville Superintendent Dr. Kathy Ludwig was recently named the 2020 Tom Ruhl Ally Award Recipient by the Oregon Association for Latino Administrators. Dr. Ludwig was presented with the award during the 2020 OALA Winter Conference on Saturday, February 8 at Grant High School.
The Tom Ruhl Ally Award is presented every year to non-Latino OALA members who have exhibited leadership in the areas of equity and cultural competence. Recognized leaders have implemented strategies or activities that align with OALA's mission, purpose, and goals in their district.
During her 20-plus years with the West Linn-Wilsonville School District, serving as superintendent since 2016, Dr. Ludwig has led pivotal equity work across the district's 16 schools, beginning with a District Equity Action Plan. Under Dr. Ludwig's leadership, the district has prioritized disrupting systems of racism, building school communities that are safe and welcoming for all students, and cultivating a district staff that reflects students in the West Linn-Wilsonville School District through intentional hiring processes and professional development.
The Oregon Association for Latino Administrators was formed in 2002 to create a vehicle to support and mentor Latino Administrators as well as Latino educators who aspire to become administrators in the State of Oregon. The association has grown exponentially over the past 16 years, increasing the capacity of Latino educators across the state while building equity for all students.
OALA's goals include promoting Latino educators into leadership positions; ensuring educational equity for all students and especially those of Latino heritage; advocating at the federal, state, and local level for equitable educational policies impacting Latino students; disseminating data related to the changing demographics and their implications for schools in Oregon; developing strategic partnerships with organizations throughout Oregon that acknowledge and support the accomplishments of Latino youth; and providing opportunities to build the capacity in the organization and of its members.
The West Linn-Wilsonville School District is an Institutional Sponsor of the OALA Conference, helping to push the organization's pivotal mission while increasing the capacity of Latino educators and administrators across the district and larger State. In addition to the district's involvement in OALA, Lowrie Primary Principal Sarita Amaya serves as Vice President and Bolton Primary Principal Edgar Solares serves as a member at large on the OALA Board.