Return to Headlines
5-1-12: The Long Farewell
Story by Josh Kulla - Wilsonville Spokesman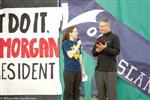 Wilsonville High senior Alyssa Clark presents retiring athletic director Mike Henderson with a commemorative plaque during a recent school assembly.
Leadership always has been a focal point during Mike Henderson's career in education.
And while he recently announced plans to retire as Wilsonville High School athletic director at the end of the current school year, it's certain his shadow is going to linger in the school hallways long after that.
In recognition of that dedication, the Oregon Athletic Directors Association recently presented Henderson with its 2012 State Award of Merit at the organization's annual conference at Sunriver in Central Oregon.
"It was an amazing and a humbling honor to get the recognition by my peers," Henderson said. "And it was an honor that the (National Interscholastic Athletic Administrators Association) Assistant Executive Director Dr. Michael Blackburn was there to congratulate me, which was nice."
Henderson has served as athletic director at Wilsonville since 2003. He also is an assistant principal, and has enjoyed a career in education spanning 33 years. Prior to his stint in Wilsonville, he worked at Stayton Middle School and before that at Hudson Park Elementary in Rainier. Henderson also has coached track and field for a total of 24 years, along with football and basketball.
Henderson also has served for the past five years as chairperson of the Northwest Oregon Conference and as chairperson of the league's soccer and track committees. Before that, he also was chairperson of the cross country and track committees.
At the state level, Henderson currently represents class 5A high schools on the OADA board of directors. This has meant a lot of extra work, as athletic directors around the state have worked with the Oregon Scholastic Activities Association to create the most equitable competitive models possible for member schools.
Largely because of issues surrounding travel and transportation, it's likely that this is an impossible task in the long term. Nonetheless, Henderson has played a vital role in making the process as smooth as possible.
"That's been fun because we've had to meet and make so many decisions, on how to make a plan model and plan the playoffs," he explained. "The OSAA is not in charge of play-in models, the athletic directors are."
That constant striving for equality is why the state's 5A schools, which range in enrollment from roughly 850 to just over 1,500 students each, have experienced a new post-season model in basketball and other sports for each of the past four years. And Henderson has been in the thick of things in helping to clear up confusion, controversy and any other issues that need handling.
"When there are conflicts between schools, they don't call OSAA, they call me to help set things up," he said. "And governance of 5A is what we've developed. It was a brand new process, and a concept that needed to have slight adjustments to make it more efficient and more equitable."
When asked, however, it's the personal connection with students and athletes that Henderson is most proud of. It's perhaps best exemplified by his recollection of a recent OSAA executive board meeting in which the possibility was raised of adopting NWOC sportsmanship standards on a statewide basis.
"We literally track and monitor sportsmanship at the conclusion of each of the three seasons," he explained. "All of the schools are ranked and rated by the other schools in the league, and the OSAA now is proposing that each league in the state adopt this model and name a top sportsmanship team in each league."
What's better, he added, is that Wilsonville High athletes have earned the NWOC sportsmanship award for two years running.
"And we might get it three years in a row, which is cool," Henderson said. "Everybody's raised the bar."
In his absence, Henderson's position will not likely be plagued by inexperience.
After serving 27 years at Canby High School, Dennis Burke recently was named as Henderson's replacement at Wilsonville after the end of school year.
"I am looking forward to it," Burke told the Spokesman recently. "I've always welcomed challenges and here's a new challenge."
Burke spent the past 11 years as athletic director/associate principal at Canby, where he began his career in 1983 as a social studies teacher, and assistant football and basketball coach.
That leaves Henderson feeling good as his final spring at Wilsonville progresses. The OADA conference, he added, just adds flavor.
"This conference provided me a great opportunity to say 'Thanks,' and 'Goodbye' to a ton of good friends and fellow Ads around the state," he said. "It was good."