Students Learn About Teamwork, Restoration Efforts Through Metro Native Plant Center Work-Based Learning Program
Posted by West Linn-Wilsonville on 7/9/2019 3:00:00 PM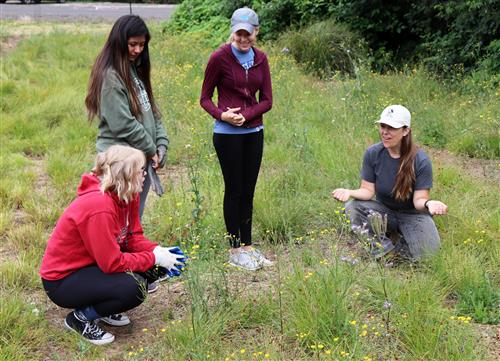 The West Linn-Wilsonville Internship Pathways Program launched this summer, connecting WLWV high school students to career-based learning opportunities in the local community. One such work-based opportunity comes through the Metro Native Plant Center, whose collaboration has allowed three students to gain first-hand environmental science experience this summer.
Through a youth work-based learning program, students have already begun working at Metro's Native Plant Center in Tualatin, located just down the road from Athey Creek Middle School. Students have hit the ground running, gaining perspective on the vital purpose the Metro Native Plant Center serves in the Metro Region while learning valuable work skills.
Metro's Jennifer Wilson led students on Tuesday, July 9, teaching about the various plants currently being grown and their importance to building biodiversity in the Portland Metro area. Students spent time weeding grow-out beds and collecting seeds, which will help maintain and increase native plant populations in local parks and nature preserves, such as Graham Oaks Park in Wilsonville.
The Metro Native Plant Center focuses much of its efforts on endemic endangered species, aiming to de-list endangered species through plant restoration and ecosystem conservation. Students will receive first-hand experience on everything that goes into that process this summer, completing 30 hours of fieldwork. During that time students will gain valuable skills while learning about potential careers in environmental science.
Wilson plans to immerse students in the scientific aspects of the Metro Native Plant Center, with plant identification being a major skill that students will engage with. Teamwork and collaboration, meanwhile, are additional skills that students will gain from this summer. According to West Linn High School student Kate VandenBrink, teamwork, in particular, is something she's already received practice with early on in her work experience.
"I would say teamwork is something I'm already learning and is something I haven't gotten from my past work experiences," Kate says. "It's something I'll be able to add to my résumé and use going forward."
"Teamwork and collaboration are crucial in this work. We require quite a few volunteers to do what we do and working together is a big part of that," Wilson says. "You have to be able to work with many people who you might have just met and work together effectively and efficiently."
Students will also complete a variety of assignments during their summer work experience, including mentor interviews, writing tasks, résumé building, and more. West Linn High School Student Emily Soose says she is particularly excited to learn more about what it takes to begin a career at a place like the Metro Native Plant Center, and what skills she should be focused on learning in the future.
"I want to know what (Jennifer's) career path was like, what her educational path was and what her job entails," Emily says. "I'm also interested in gardening and sustainability, and am looking forward to improving my gardening skills"
Similarly, Kate says she's looking forward to the volunteer aspect of the Metro work experience.
"My grandmother was a botanist and I've grown up learning the importance of giving back to the planet," she says. "I really want to be a lifelong volunteer and this important experience in learning about opportunities out there. I want to be a benefit to the environment, I don't want to be part of the problem."
Students will receive .5 high school course credits in addition to the career-based work skills they will gain. Students will continue their work experience through the summer, finishing up before the start of the 2019-20 school year. Until then, they'll soak up all the Metro Native Plant Center has to offer.
"I'm excited to be able to work outdoors and make a positive impact," Emily says. "It will be a fun summer."
To learn more about the Metro Native Plant Center, as well as ways to get involved and volunteer, visit their website. To learn more about the CREST Internship Pathways Program and how to get involved, please visit the CREST website.