Wilsonville Public Library Provides WLWV Interns With Real-World Photography Experience
Posted by West Linn-Wilsonville on 7/30/2019 2:00:00 PM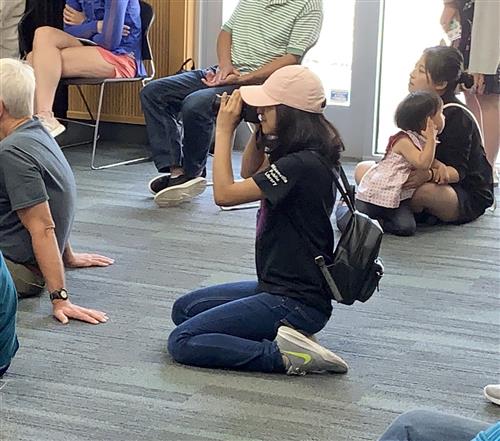 They say a picture is worth 1,000 words, which is exactly what Wilsonville High School Sophomore Hanna Rizo hopes to achieve with her photography. In fact, storytelling was one of many reasons she was excited to begin a photography internship through the Wilsonville Public Library this summer.
Hanna has spent her summer vacation photographing various Wilsonville Public Library events, providing marketing materials for the Library while building awareness of the many exciting opportunities it has to offer Wilsonville residents. In addition to experience and work she can add to her portfolio, Hanna will also get the chance to learn from a photography mentor in local photographer Kim Elliott.
Kim runs a successful photography business in Wilsonville, specializing in both high school senior and family portraits. During Hanna's summer internship, Kim has provided guidance alongside Wilsonville Public Library staff, teaching Hanna technical skills in addition to important aspects of running a business. Hanna, whose experience lies mostly in photographing landscapes, says her favorite part about photography is telling stories. She was excited to gain experience in event photography and learn skills that will make her a more well-rounded photographer.
"My goal in photography is always to try to tell the story in one photo," Hanna said back in early July. "I'm fascinated by the power of photography and the importance it can play in memories. I'm looking forward to learning some technical skills this summer."
Through her Wilsonville Public Library internship, Hanna honed camera techniques such as white balancing, color correction, manipulating shutter speed and depth of field in her photos. As is the case with anything, practice and hard work produce gains in photography skills.
"So much of successful photography is dedication and experimentation," Kim said. "Preparation and commitment go a long way in producing photography that you can be proud of."
In addition to shooting popular community events at the Wilsonville Public Library such as the summer reading program, Red Yarn puppet shows, juggling acts, Presto the Magician, and The Reptile Man, Hanna will also complete a variety of internship assignments. Those assignments are aimed at building career skills, such as interviews of photography professionals, resume building, and career research.
Her experience working in the Wilsonville Public Library has also allowed her to meet new people and better learn the Wilsonville community. The Wilsonville Public Library provides countless resources and educational opportunities for students and community members alike, which Hanna says she's enjoyed seeing first-hand this summer. All WLWV interns receive .5 high school credits for their internship work in addition to the many career skills they gain.
"It was a fun opportunity and I got to attend some great events," she said.
To learn more about the Wilsonville Public Library visit their website. For information about Kim Elliott Photography, go to www.kimelliottphotography.com.
The West Linn-Wilsonville Internship Pathways Program was launched in the summer of 2019, with the goal of connecting high school students to career-based learning opportunities in the local community. For those interested in hosting student interns, or WLWV students interested in participating in an upcoming internship, please visit the CREST Website.