Clackamas River Basin Council Provides Environmental Science Experience for WLWV Students
Posted by West Linn-Wilsonville on 9/9/2019 9:00:00 AM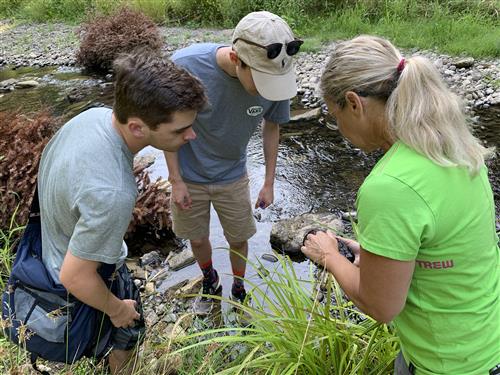 The West Linn-Wilsonville Internship Pathways Program launched this summer, connecting WLWV high school students to career-based learning opportunities in the local community. One such work-based opportunity came through the Clackamas River Basin, whose collaboration has allowed two students to gain first-hand environmental science experience this summer.
West Linn High School students Gavin Harvey and Camden Saks spent their summer working in different areas of the Clackamas River Basin. Working alongside CBRC's Suzi Cloutier, Gavin and Camden regularly visited water sites to learn about the Clackamas River Basin Council's role in preserving the watershed for future generations. There, the pair would test samples from various sites on the Clackamas River, record observations of surrounding wildlife, and help staff with regular reports.
"Our goal for students is to get a little taste of just one sliver of environmental science," Suzi said of the internship program. "There are so many areas of environmental science where people can make a positive impact, and seeing that first-hand will hopefully go a long way."
Students regularly tested for more than 120 different pesticides, monitoring key spawning areas across the area. They also learned about restoration and preservation efforts, including the planting of native trees and plants and the importance of protecting local watersheds.
In addition to weekly trips into nature, students in the Internship Pathway program also completed a variety of assignments during their summer work experience, including mentor interviews, writing tasks, résumé building, and more. Camden credited his CBRC mentors for a summer of meaningful learning.
"The real-world experience is really helpful and interesting," he said.
Gavin said the internship experience furthered his interest in environmental science as a career possibility down the road.
"I've always been interested in the idea of environmental sustainability and this experience has allowed me to explore a potential career," he said. "I'm interested in a career in environmental engineering and this experience has given me some great insight."
The CRBC also hosted Wilsonville High School Senior Ally Finkbeiner as a digital marketing intern this summer. Mentored by CRBC Communications and Program Coordinator Pat Kaczmarek, Ally helped create a social media marketing plan aimed at increasing youth social media engagement related to the watershed council.
Students received .5 high school course credits in addition to the career-based work skills gained during the internship. To learn more about the Clackamas River Basin Council, as well as ways to get involved and volunteer, visit their website. To learn more about the CREST Internship Pathways Program and how to get involved, please visit the CREST website.