Wilsonville High School Student Gains Experience Through Oregon City Farmers Market Internship
Posted by West Linn-Wilsonville on 2/4/2020 4:00:00 PM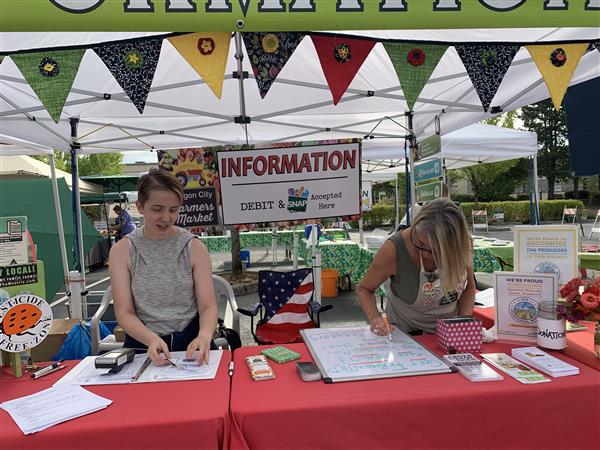 The West Linn-Wilsonville Internship Pathways Program launched last summer, connecting WLWV high school students to career-based opportunities in the local community. One such opportunity came through the Oregon City Farmers Market.
Each Saturday, Wilsonville High School senior Katie Walter was eager to jump right in and assist the Market Manager with the behind-the-scene operation of a large Farmers Market. This youth internship was a great opportunity to witness how much before market work there is, how to disembark all of the produce from trucks, how to arrange produce, and price produce for the market. Katie helped with the Power of Produce (POP) Club activities to empower kids to make healthy food choices.
The program is free for kids 5 years to 12 years to join. Kids who join receive $2 of tokens to spend on fresh fruit and vegetables each time they are at the market. Hosting a high school intern was a natural fit for the Oregon City Farmers Market because they are "dedicated to empowering youth to get involved in not only eating good food and growing it too. It is just great to have that kind of energy and interest from a young person" said Market Manager Jackie Hammond-Williams.
The mission of the Oregon City Farmers' Market will serve as a market place that supports the growth of sustainable agricultural businesses and food security by encouraging the consumption of locally grown fresh food.
"My favorite part of the internship at the market was the opportunity to interact with members of the community and see how the work we did at the market impacted their lives," Katie said.
In addition to expanding customer service skills, Katie used this opportunity to network with local farmers and was able to get part-time paid work assisting a local farm, Sun Love Farms.
"Internships are a great way to build experience in an environment that encourages you to challenge yourself," Katie said. "Once you have a job, failure isn't always an option, even if you want to grow from it. Internships are really safe ways to learn new skills so that when you do start getting jobs, it's not nearly as daunting."
All WLWV student interns receive .5 high school credits and optional college credit for their internship work in addition to the career skills they gain. To learn more about available student internships, or for local businesses interested in hosting a high school intern, please visit the district website.