Summer Bond Projects Share a Theme of Safety and Security
Posted by West Linn-Wilsonville on 6/27/2018 2:00:00 PM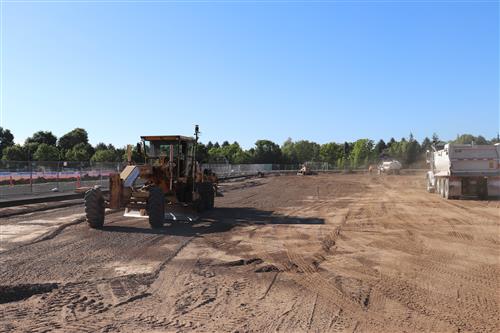 Meridian Creek Middle School and Sunset Primary School enjoyed successful openings this past school year, but additional construction projects are still getting underway this summer.
Thanks to the generosity of the West Linn and Wilsonville communities for passing the 2014 Capital Bond, Boeckman Creek Primary, Bolton Primary, and West Linn High School are all receiving renovated safe and secure entryways this summer. The new entryways will ensure that each school is accessible by just one door that leads directly into the office during the school day while adding to the welcoming feel that West Linn-Wilsonville schools enjoy. Other safety features, such as upgraded locks and intercom systems, are also part of the design, as the district continues to think about safety and security in all of its schools.
In addition to a new entryway, Boeckman Creek will also receive lighting upgrades, fire sprinkler replacement, carpet replacement, and classroom porch replacements this summer. Demolition is nearly complete at Boeckman and Bolton. Entryway work at West Linn High School will begin in the coming weeks, meanwhile.
Another major bond project is underway at Wood Middle School, meanwhile, where the football field will receive synthetic turf and field lighting for the first time. Turf replacement is also underway for the baseball fields at Wilsonville High School and West Linn High School. The new turf replaces an existing playing surface that was first installed 13 years ago, far exceeding the eight-year warranty that is expected of such material. Thanks to consistent and careful upkeep from facilities staff, the district was able to increase the three fields' playability well past the expected lifetime. A vital resource for both cities, the new turf fields will provide playing surfaces for the greater community for years to come.
New state-of-the-art LED gymnasium lighting has also been installed at several WLWV schools including Wood and Rosemont Ridge middle schools, Cedaroak Park, Stafford, and Willamette primaries. Smaller projects at Meridian Creek and Sunset will also be completed this summer, as the new buildings continue to receive fine-tuning and finishing touches.
Security cameras are also being added to school entryways across the district, increasing safety and security for staff and students. Security camera upgrades will also take place at West Linn and Wilsonville high schools.
Thanks to the hard work of contractors and the district's operations department, all of the many construction projects throughout West Linn-Wilsonville are expected to be completed before the first day of school on Aug. 27. Thank you to our community for supporting facilities for current and future students!