Phone: 503-673-7374
Email:
Degrees and Certifications:
Ms.

Amy Schauer

Director, Science Instructional Coordinator

After completing her B.S. at the University of Tennessee in Wildlife and Fisheries Science and her M.S. in Forestry and Natural Resources at the University of Georgia, Amy went to the University of Alaska to study seabird ecology in the Bering and Chukchi Seas. Her work in oceanography took her to waters around the former USSR (Siberia), Greenland, and Antarctica - among the coldest and most productive oceans on Earth. Amy has also worked as a park naturalist/ranger, reference librarian and artist. She brings all this together at CREST, working with teachers and students to develop their understanding of the phenomena in the world around them through the practices and core ideas of science. Amy lives in West Linn with her husband, Jay, and their twins, Liam and Benjamin. When not at CREST, she's likely to be outdoors with her family, gardening, birding, backpacking/hiking, or playing her guitar.
Phone: 503-673-7350
Email:
Degrees and Certifications:
Becky Hancock

Youth Transition Specialist


Becky started working for the West Linn-Wilsonville School District in 2009 in the Adult Transition Program helping young adults with disabilities transition to life and community beyond the school setting. With a M.S. in Therapeutic Recreation she has worked with many different types of individuals who have experienced challenges through spinal cord injuries, stroke, mental health issues, Alzheimer's, and various intellectual disabilities. She comes to the job as a Youth Transition Specialist through a cooperative grant from Vocational Rehabilitation, the University of Oregon and the special education department of WLWV schools. With endless tasks to be completed at CREST, both outside with the various gardening/landscaping activities as well as inside with inventories, ordering, and maintaining office functions, the science center is an ideal environment to assess and train work behaviors of individuals needing to begin transitioning from the classroom to work-based learning. This amazing new position allows Becky to create numerous opportunities for students with special needs to engage in activities previously unavailable to them and to explore possible work interests through involvement with new tasks, tools, and projects. She lives in West Linn, enjoying an active life with two children, Liv and Hart, and husband, John, who all love to travel, camp, hike, read and volunteer with various organizations. Much of her outdoor passion comes from growing up in Wyoming in a family that spent a great deal of time in the mountains.
Phone: 503-673-7349
Email:
Degrees and Certifications:
Helena Kilstrom

CREST School Garden Coordinator

Helena grew up on an organic vegetable production farm in Northern California. She received her bachelors degree in Agriculture Science from Oregon State University in Corvallis and hasn't left the state since. As the CREST School Garden Coordinator, she provides support to all nine primary school gardens in the district. Combining her love for working with children and her appreciation for growing food is a dream come true. She loves helping students understand where their food comes from and encouraging them to try new fruits and vegetables. When Helena is not at CREST you can find her hiking around Oregon with her husband Andrew, working in her own garden, cheering for the BEAVS or hanging out with her cats Cleo and Fred.
Phone: 503-673-7000 6348
Email:
Degrees and Certifications:
Laura Nappi

CREST Internship Coordinator

Contact re: Middle School Service-Learning Opportunities, HS Job Shadows, and HS Internships

Laura came to the West Linn-Wilsonville School District in November of 2018. She holds a BS in Biology from Northern Illinois University and a Master in Science Teaching from Portland State University. For the past ten years, she taught Environmental Science, Ecology, and Sustainability courses at a small private college. Prior to this, she worked in the environmental non-profit sector managing volunteers and coordinating education programs. She is excited to step into this new role as CREST Internship Coordinator and help connect students with meaningful work-based experiences in the community and on-site at CREST. Laura lives in Sherwood with her husband and two daughters, Kacey and Scarlett. She enjoys spending time with her family hiking and finding lichens on trees!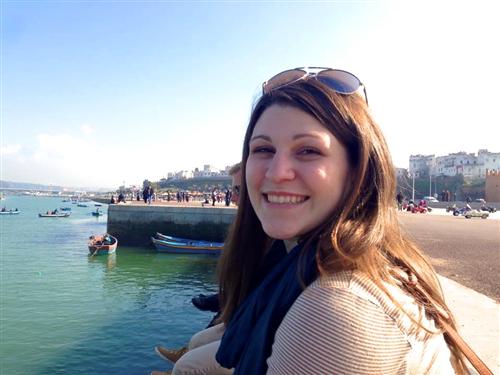 Phone: 503-673-7300 ext. 6349
Email:
Degrees and Certifications:
Danielle Grenier Schroeder

Program Coordinator

Contact re: student research program, CREST-Jane Goodall Science Symposium

¡Hablo un poquito de español!

Danielle Grenier is a West Linn High School alumna who went off to pursue environmental studies and biology at Linfield College in McMinnville, Oregon. In the heart of wine country Danielle studied bacterial communities in vineyards and it inspired her love of microbial ecology. Her other specialty was calculating greenhouse gas emissions for Linfield as part of the American College & University Presidents Climate Commitment. As a CREST Program Coordinator Danielle supports students as they develop research and engineering projects for district, state, and international competitions. She will tell anyone who asks that ISEF is one of the greatest opportunities an aspiring engineer or scientist could ever have! When she's not in the lab you can find Danielle outside walking her golden retriever, Parker Brown, eating at the food carts in downtown, or camping in Central Oregon.