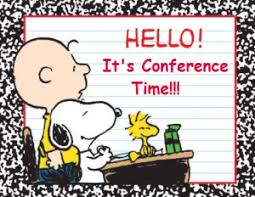 That crispness is in the air as autumn makes its way into our school year. With that sight of our breath on those cool and crisp mornings comes an awareness that Parent/Student/Teacher Goal Setting Conferences cannot be far off. In fact, Trillium Creek Primary staff are already preparing to host this year's evening and day conferences in just a few weeks. I will be holding conferences on the following dates:

Monday, Oct. 8th, 3 to 7 P.M.

Tuesday, Oct. 9th, 3 to 7 P.M.

and Wednesday, Oct. 10th, 8 A.M. to 2 P.M.

Please make sure to check all updates from TCPS to find out when sign ups for conferences begin so you can log in and make your reservation for a conference. Also, please make sure to plan and bring your fourth grader to our conference. I always encourage them to be part of the goal setting discussions since it is their goals for the school year that we are talking about and there will be greater participation on their part if they help to choose those important goals. Finally, please fill out the "Fall Pre-Conference Parent Questionnaire" that was sent in a recent e-mail as well as a hard copy going home on Monday. Please fill out both sides of the form and send it back to school as soon as possible so I can review the information before our conference.

Thank you and I look forward to meeting with you and your fourth grader soon.

Mr. M.