Mrs. Melnychenko will be teaching in the On-Line program for the 20-21 school year. We will miss her at Athey Creek. Mrs. Willard will still be here taking care of the library and your reading needs. Call or email Mrs. Willard with any questions: 503-673-7400 x5443 or willardt@wlwv.k12.or.us
NEW BOOK SPOTLIGHTS!!

Check out the slide shows below to see some of the newest books on the Athey Creek Library shelves. Full of new Athey Creek books, other Athey Creek titles and links to help you check out what you see!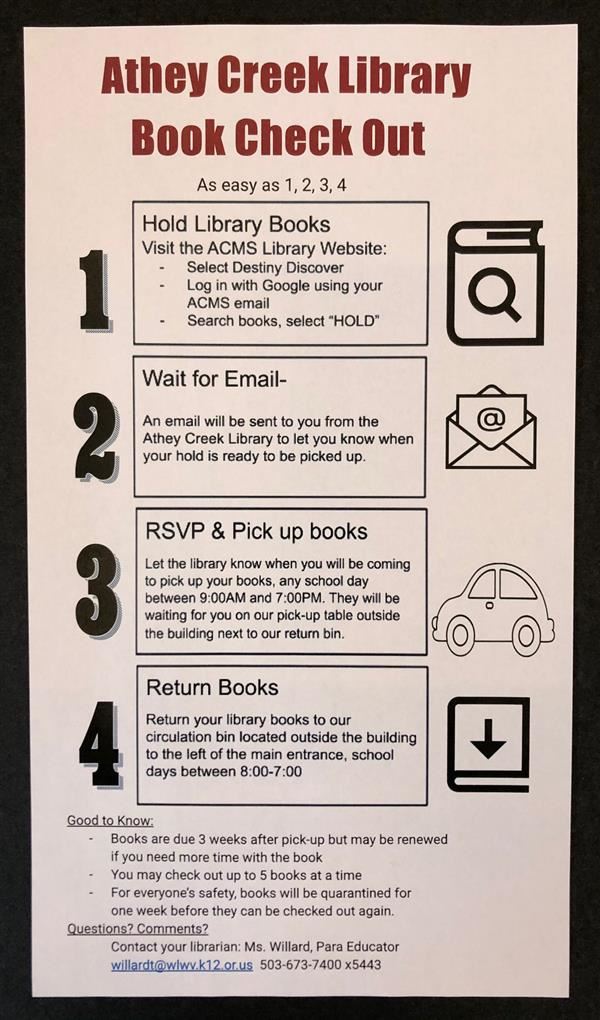 Join the Athey Creek Library Google Classroom to find information on checking out books from our library collection, ebooks, audio books and chrome books. Join in on fun activities, access great resources, and learn about new releases and great books you may have missed.

Google Classroom Code: GZWDLTD
ORCA Book Club:

ORCA Book Club Zoom Meetings are every Friday at 12:30. Log in information is in the Google Classroom. It is not too late to join the ORCA Book Club or the meeting. Email Ms. Willard if you have any questions about signing up.

ORCA Book Club is open to new members!

Go to our Library Google Classroom to sign up and become a member of the Athey Creek ORCA Book Club. You will find A LOT of information about ORCA and the book club in the Google classroom or email Ms. Willard with questions.

Looking to get enough books to get you through the winter break??

There is still time to check out books from the Athey Creek Library for reading over winter break. Place your holds now and pick up any school day before December 19, just RSVP to the email you receive from Mrs. Willard letting you know that they are ready.
New Hours for Library Book Pick-up:

Library books that have been placed on hold are available for pick-up via RSVP between 9:00am-7:00pm on school days.

Respond to the HOLD email that you receive from Ms. Willard to make arrangements.