Third High School Project Update
Posted by West Linn - Wilsonville School District on 11/18/2021
ACMS Office Addition Project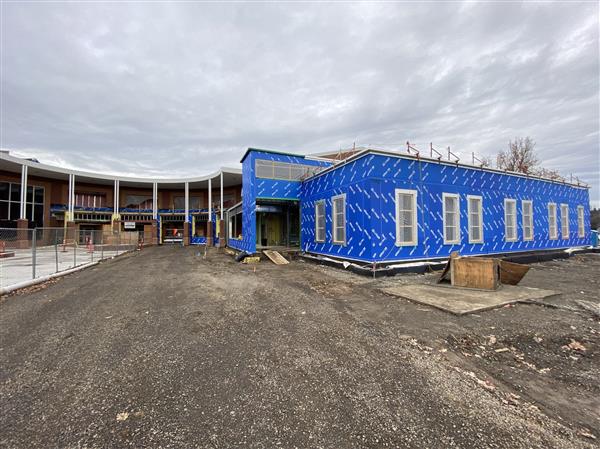 The contractor continues with the office addition phase of construction targeting Winter break for completion. The Office and new entry are taking shape, with exterior walls being completed and roofing material arriving on site. Installation of electrical, mechanical and plumbing systems are also underway.
Temporary lighting was provided while parking lot work continues, and the new parking lot poles are now set. Once this scope of work is completed the project will transition from the temporary light poles to the new lighting.
The sidewalk expansion work for the parent drop-off area is nearing completion and is expected to be available in the coming weeks.
During the course of this project the district is taking advantage of opportunities to upgrade existing systems in preparation for the school's transition to the new third option High School. Over Thanksgiving break the school is expected to be re-keyed. This will include the new classroom lockdown hardware. The plumbing system updates are expected to be completed over the Winter break. During this time the School will not have running water but will be back up and running before students return in January. Also during the Winter break the new generator is expected to be installed in the new enclosure and be fully functional before students return.
Once the school staff has successfully moved into the new office, phase 2 of the project will begin. This phase will transform the old office spaces into the new student services center for the new Third Option High School.
Phase 1 is expected to wrap up over Winter break, while Phase 2 is expected to start early 2022 and wrap up spring 2022.
Questions can be directed to the Project Manager: Ryan Hendricks hendricr@wlwv.k12.or.us