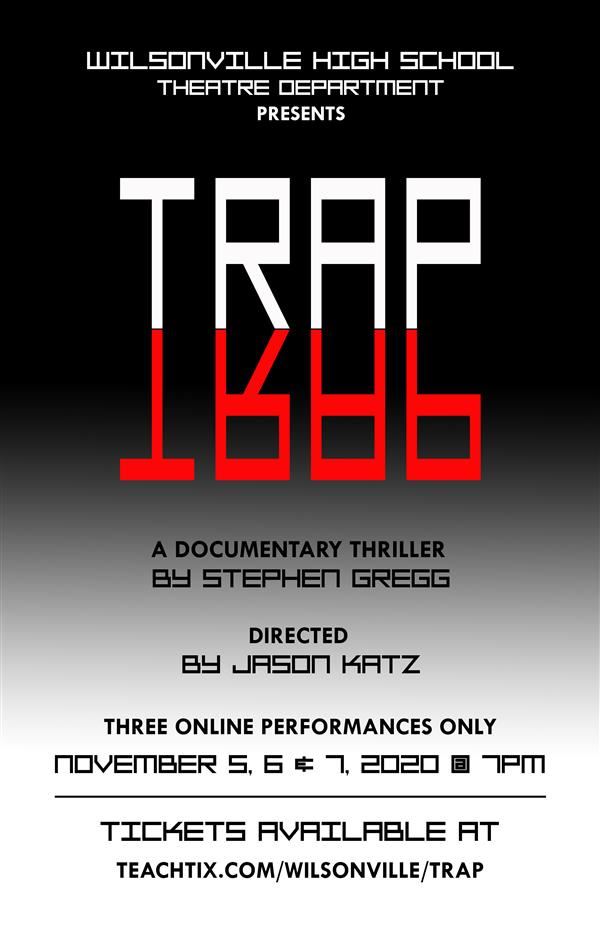 Wilsonville High School Theatre will present its first online performance of the year, a production of TRAP from playwright Stephen Gregg. The play is structured as a series of interviews and short scenes surrounding a strange occurrence: an audience goes to a high school play and mysteriously falls unconscious. It is up to local townspeople, including a fireman, a struggling police detective, a professor of strange phenomena, and a young high school student to solve the mystery and awaken them before it's too late.

Our fall show was rehearsed over Zoom and then shot like a movie in and around Wilsonville High School. We hope you enjoy the result.

TRAP contains some scary images and sounds and is intended for audiences 10 and up.

PURCHASE TICKETS AND SNACK PACKS HERE

Once you purchase your ticket, you will receive an email containing a private link to the performance. There is no replay option for this show. Show must be watched at the designated time.

Be sure to click the performance link five-to-ten minutes before the scheduled start time to ensure that you are connecting properly. If you do not see the show start on time, try refreshing your screen or re-click on the link.

If you do not receive an email with the show link, please contact support@teachtix.com.

If you would like to chat with the actors and crew about the show, please join our Zoom call after the final performance. You will receive a link to the Zoom call when you purchase a ticket. Everyone who purchases a ticket is welcome to join the call.

When purchasing, you will also have the option to purchase TRAP Snack Packs from the drama program, which you will pick up at the high school in drive-through fashion, November 5th-7th. Proceeds from concessions will go to funding our programs. Details for picking up your TRAP Snack Packs will arrive in your email upon purchase.

If you do not receive an email with your snack pack pick-up details, please contact our ticketing volunteer at whstheatertix@gmail.com.