WLHS Celebrates Inclusivity with Third Annual Unity Day
Posted by West Linn-Wilsonville on 5/24/2019 5:00:00 PM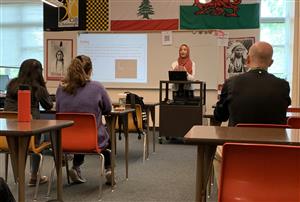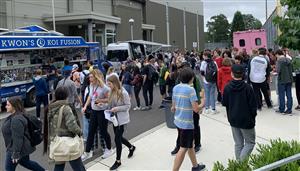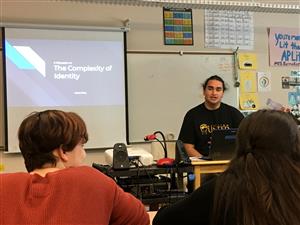 Unity Day has become an integral part of West Linn High School. Students hosted the third annual Unity Day on Friday, May 24, increasing inclusivity while building school culture.
Once again, the entire day was dedicated to student-taught classes on subjects that matter most to West Linn High School students. Students had the opportunity to sign up for four different sessions, selecting Unity-inspired classes that are most relevant or interesting to them.
Classes covered a wide range of topics, including workshops titled "Sustainability 101," "Be the Difference," "Discrimination: thought you'd see the last of me," "Islam and Islamophobia," "Body Positivity and Eating Disorders," "Mental Health and Sports: Balancing Your Life," and "Nutrition 101" among others. In total, there were more than 50 different workshops taught by students.
While classes varied widely, all offerings had two things in common: workshops had ties to unity and were of importance to West Linn High School students. One such class was taught by senior Haden Misra. Called "Complexities of Identity," Misra and his classmates delved into the intricacies of identity, its importance in the world, and how it can change and develop over time.
Misra explained how he grew up multi-racial, and how his cultural identity has ebbed and flowed throughout his life. He shared his own experiences in exploring his Indian heritage, and how his own journey with his identity continues to develop. Students discussed the differences in cultural, gender, and sexual identity, as well as the role that identity plays in society. Ultimately, students agreed that identity is unique to the individual, and while there are many factors that go into self-identity, our differences are what make the world, and West Linn High School, in particular, a special place.
In "Mental Health and Sports: Balancing Your Life," students explored the importance of practicing healthy habits for both the body and mind. High school students lead hectic lives filled with school, co-curricular activities, family responsibilities, jobs, and internships among other potential stressors. The importance of routine, time for relaxation, and the willingness to accept help are all important to leading a healthy lifestyle.
In "Islam and Islamophobia," meanwhile, students shared their own experiences with growing up Muslim in America and the many stereotypes that young people face. Celebrating culture and embracing diversity are vital to inclusive cultures, as students explored ways in which students can learn from one another and grow as learners and people.
Students further celebrated unity with a variety of food trucks during the lunch period, as well as a culminating staff vs. student soccer game in the school's main gym. While the WLHS staff walked away with an upset victory, the entire school were winners on Friday.
West Linn High School will continue to grow and refine Unity Day, and the important aspects of inclusion it promotes in the West Linn community.