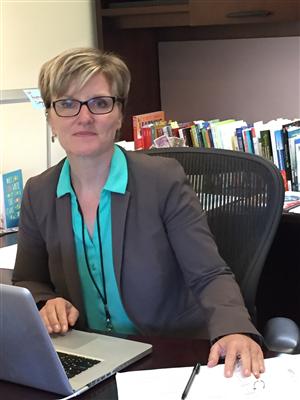 Greetings West Linn-Wilsonville School Community -
Welcome to the West Linn-Wilsonville School District! This is an exceptional place of teaching, learning and community support. Between our incredible students, dedicated staff, supportive School Board and wonderful community, I can't imagine a better place in which to learn and lead.
What makes this district so special is that while we draw upon students, families, and patrons from two cities, we are ONE community, made stronger by our mission of creating learning communities for the greatest thinkers and most thoughtful people for the world. We have compelling District Goals, that drive strategies and actions for improving how we teach, learn and lead in cultures that are inclusive, courses that are academically rigorous and results that generate equitable outcomes for each child.
Thank you, students
As we move into the final days of the school year, I wish to thank our students for their commitment to learning this year. Your unwavering effort to learn as much as possible while improving your school community through kindness and inclusion has been a joy to see. Our school communities enjoy a strong culture of excellence thanks to your commitment to attendance, focus in the classroom, and a deep desire to improve as learners and as people. Our district website is full of stories and examples of student learning, and their outstanding performances.
Thank you, parents and volunteers
Thank you, parents and volunteers, for your generosity of time and talent this year. Thank you for your unwavering commitment to all of our students, providing the support and resources to allow them to thrive and flourish this school year. Each of our schools brimmed with adults on a daily basis, adding to the positive learning communities our students enjoy. Even on weekends, after school and into the evenings, our parents routinely step up to volunteer and sponsor activities in athletics, arts, academics, and more that keep our students engaged and passionate about their learning.
Thank you, Teachers and Staff
Thank you to our teachers, staff, and school leaders for creating the conditions every day for our students to thrive. I hope each of you takes with you the pride of watching our students grow in knowledge, skills, and independence; you played an important part in their learning and character development. As the work of teaching and supporting students becomes increasingly complex, you have met the challenge with determination, talent, passion, and compassion. On behalf of the School Board and myself, we are incredibly grateful.
Congratulations to our Seniors, Class of 2019
Congratulations to the nearly 750 seniors who will graduate from West Linn, Wilsonville, and Arts and Technology High Schools this year. The Class of 2019 includes award-winning scholars and scientists, artists and athletes, innovators and community servants, with hundreds of students ready to enroll in universities all across the nation and globe. Many students from the Class of 2019 will be heading directly into the global workforce, having gained industry certifications and valuable, real-world experience through internships, apprenticeships, concurrent enrollment courses, and Career and Technical Education classes.
But perhaps their greatest accomplishment is the impact they've made on their schools and the greater community. From Unity Day at West Linn High School, to Doernbecher Days at Wilsonville High School and Community Rock Concerts by ATHS, our seniors have worked tirelessly to make the world a better place. No matter the path our seniors choose to take, they have already left their mark on this community. We know the best is still yet to come. Congratulations, Class of 2019!
Thank you West Linn-Wilsonville for another year of remarkable memories. Have a safe and happy summer and we'll see you in the fall.
With joy and gratitude,
Kathy Ludwig