Summer Reading Program Builds Reading Skills for Students From All WLWV Primary Schools
Posted by West Linn-Wilsonville on 6/20/2019 3:00:00 PM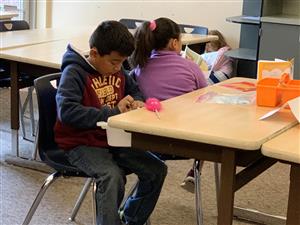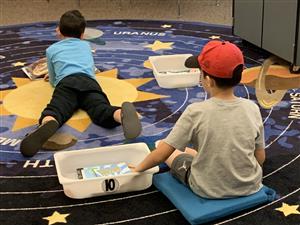 While the West Linn-Wilsonville School District's Summer Reading Program has gone through a variety of iterations over the years, one thing has always stayed constant — the program increases reading skills for students in a fun and inclusive environment.
The free three week-long Summer Reading Program kicked off on Monday, June 17. Open to all West Linn-Wilsonville students in grades 3-5, the program consists of nearly 200 students with representation from all nine of the District's primary schools.
Bus transportation is provided for all participating students, who arrive at Boones Ferry Primary at 9 a.m. where they spend the better part of 3.5 hours interacting with peers from all over WLWV, selecting books from the BFPS library and, of course, finding a comfy spot to curl up and read.
"One thing I really like about the program is that, even in just three weeks, we really feel like a mini-family and students get to know one another really well," says Elisa Lee, the District's Dual Language Coordinator and one of the Summer Reading Program coordinators alongside Kelly Rogers. "We have tremendous staff members, instructional assistants, and reading specialists who help make this program successful."
It's the second year that the program has been open to all nine primary schools. Students receive snacks and a hot lunch during their day of learning, providing ample time to get to know teachers from other schools as well as peers they might not otherwise get the chance to meet. In addition to reading, students spend time discussing literature, participating in writing activities, and even some art projects all aimed at accelerating and improving reading skills.
"It's really an extension of what students receive in the classroom during the school year," Rogers says. "Instruction is probably more focused during the course of the school year, but our teachers are certainly using all of the same strategies that we would in the regular classroom setting."
New this year is an additional component for the District's Dual Language students. WLWV Dual Language teachers oversee students who participate in the Spanish-English program using books written in Spanish as donated by Lowrie Primary. The additional element allows Dual Language students the chance to further their skills in the summer months.
The Summer Reading Program lasts through July 5, meaning students have plenty of time remaining to find books of interest during their summer vacation.
"It really is a comprehensive program and one that we're proud to be a part of," Rogers says. "It's a great resource for students and families."