Meridian Creek Leadership Students Partner with Soles4Souls in School's Most Ambitious Fundraising Initiative Yet
Posted by West Linn-Wilsonville on 2/19/2020 2:00:00 PM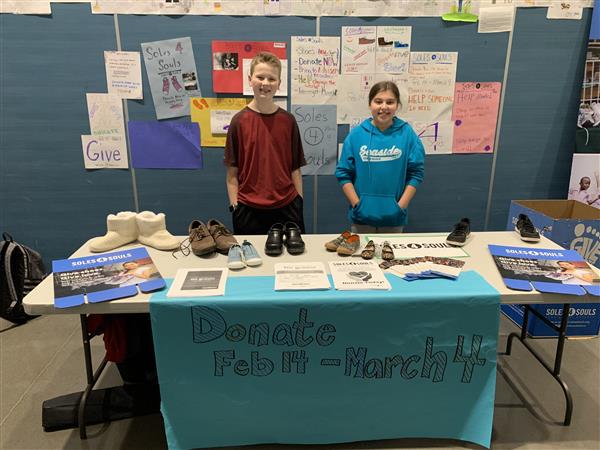 The Meridian Creek Middle School Leadership Team has grown in both size and impact since the school opened in 2017-18. Leadership students spent the majority of the first two years at Meridian Creek building school culture, engaging mostly in school-based activities and fundraising campaigns.
But with high school fast-approaching, the 2019-20 Eighth Grade Class wanted to do something a little different before finishing their middle school careers. Their goal is to leave a legacy of giving. In fact, the leadership team's latest mission aims to benefit people on a global scale.
Meridian Creek students have partnered with Soles4Souls, a national non-profit organization with Wilsonville roots. The company collects shoes and clothing to distribute to those in need across the world while fighting poverty by helping people launch and sustain small businesses.
"Most of the fundraising our leadership team has done has been more focused on our school," said seventh-grade leadership student Lily Vu. "We wanted to show students that we can make a bigger impact on the world while also helping our local community."
Meridian Creek will kick off its fundraising efforts on Thursday, Feb. 20 at a school-wide assembly. Canby High School student and Soles4Souls Volunteer Rachel Bigej will visit with students to share her experiences and the difference she's been able to make across the world. Rachel organized her first shoe drive at age 10, volunteering with Soles4Souls ever since.
"We want to inspire the entire school and so we thought to bring in a student to show what kind of difference we can make could help do that," said eighth-grade leadership student Lily Scanlan. "We're going to turn the fundraiser into a class competition to start out with a bang and collect as many donations as possible."
Meridian Creek will collect donations from students through March 4 and encourage Wilsonville residents to participate as well. Unwanted shoes or clothing can be dropped off at the Meridian Creek front office and students will make sure all items are transported to Soles4Souls. When Meridian Creek students have finished the fundraising portion, students plan to visit the Wilsonville Soles4Souls facility to help package their donations.
"Our goal is to fill an entire bus with shoes," said seventh-grade leadership student Jack Jensen. "We want to help as many people as possible."
After months of thoughtful preparation, leadership students say they're thrilled to get the ambitious fundraiser underway. Eighth-Grade students hope the project serves as a catalyst for the leadership team at Meridian Creek Middle School, setting the stage for current sixth- and seventh-graders to build on this year's hard work.
"We want to bring things full circle and do as much as we can to help," Caleb said. "We hope other students can continue to work with Soles4Souls next year and build up the leadership team at Meridian."