WLHS Math Teacher Kathleen Terner Inspires School Community with Latest Cross-Country Feat
Posted by Andrew Kilstrom on 11/20/2020 8:00:00 AM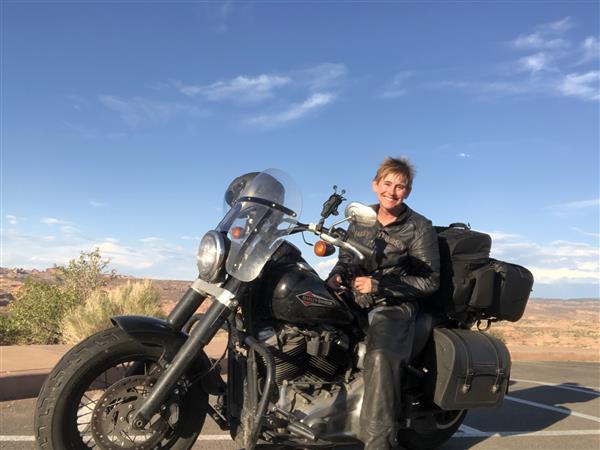 The past several months have been challenging for everyone across the world. While West Linn-Wilsonville students, parents, teachers, and community members alike have all adapted and adjusted on a seemingly daily basis to ever-changing circumstances, perhaps no one has persevered more than West Linn High School Math Teacher Kathleen Terner.
Like her students, Kathleen has taken to Comprehensive Distance Learning, adjusting to virtual learning, ZOOM classes, and Google Classroom. But her resilience dates back further than that.
Kathleen was diagnosed with throat cancer in November, 2019. She soon underwent surgery and began radiation and chemotherapy treatments, all the while continuing to teach her students at West Linn High School. She taught lessons for a period of time using a microphone to amplify her voice, but remained committed to teaching. In April, just weeks after the start of the pandemic, Kathleen learned that her cancer was in remission. It was the first of many achievements — something that would become a recurring theme for Kathleen in the months that have followed.
When West Linn High School seniors graduated in June and teachers finished their work for the school year, Kathleen decided to embark on another challenge — this one in the form of an eight-week motorcycle road trip across the country. To add to the remarkable feat, she decided she would be making the journey alone.
"My son lives in Washington DC and he was supposed to visit me in March," she said. "But then the pandemic hit and it became clear that couldn't happen. I was talking with a friend about how much I had been looking forward to seeing him, when the lightbulb clicked and I realized that I needed to visit him. My love for him was greater than my fear of traveling alone."
Kathleen prepared her motorcycle — including a custom seat and additional equipment for the monumental voyage — and set off. The next eight weeks produced experiences that she had never dreamed of.
From San Francisco to Yosemite National Park, to the Tail of the Dragon in Tennessee and stops in Niagara Falls, Kathleen would travel more than 15,000 miles over the course of her eight weeks. More than once she completed what's known in the biking community as the "Iron Butt", traveling more than 1,000 miles in one ride. In fact, she pushed further, going 1,500 consecutive miles in less than 36 hours twice on her journey, proving her own strength to herself. "I had no clue I was capable of that. It showed me how much stronger I am than I realize," she said.
Kathleen made it to Washington DC by July 16 and was able to spend four days with her son before continuing south. "The time with my older son highlighted all of the blessings that I have. It was such affirmation for me of all the positives I have in my life. "
Along the way Kathleen traveled through 27 states, explored more than a dozen national parks, met several members of the biking community, and learned invaluable truths about herself. The experience was so transformative that she decided to write a book about her experience. She has submitted her manuscript to a publisher in hopes of inspiring others with her own story.
"I only got my license two years ago. Several of those months I couldn't ride because of cancer treatments, and it's rare in the biking community for a woman to travel cross-country alone," Kathleen said. "There was this point in the trip after a cool stretch of road when I stopped at a convenience store rest stop. This group of bikers passed me as I entered, and when I came out they were waiting for me, all lined up.
"A woman who was part of their group walked up to me and asked if I was riding alone. She told me that I was an inspiration for her, and it was such a powerful moment. I decided I want to share that with others in case they find it inspiring as well."
In addition to her book, Kathleen documented her entire journey at www.kathleenterner.com. She continues to inspire those around her, and especially her students and peers at West Linn High School.
The West Linn-Wilsonville community continues to persevere as we adapt to new COVID-19 realities. There's no better example of that than Kathleen Terner.