WLWV Staff, Clackamas County School Resource Officer Save Student's Life Following Medical Emergency
Posted by West Linn-Wilsonville on 6/10/2022 10:00:00 AM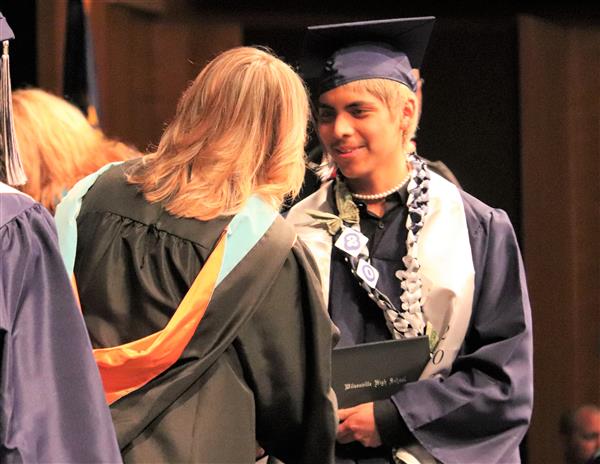 On Thursday, June 9, Wilsonville High School Senior Jair Gamez-Carrasco walked across the graduation stage to receive his high school diploma. He celebrated with friends, family, and the rest of the Class of 2022 — an opportunity that wouldn't have been possible if it weren't for the life-saving measures of West Linn-Wilsonville staff and a Wilsonville Police Department School Resource Officer (SRO) just a few days prior.
On May 31, during an outdoor wellness class, Jair collapsed unexpectedly and began experiencing cardiac arrest. Immediately, West Linn-Wilsonville staff and SRO Officer Zach Keirsey jumped into action.
West Linn-Wilsonville Maintenance Member Lance Entzel, Wilsonville High School Teacher Laura Beko, and Nurse Mary Groh began administering CPR before SRO Zach Keirsey arrived to take over. Assistant Principal Tate Olson and Sergeant Matt Swanson were on scene just moments later with an Automated External Defibrillator (AED) to restore Jair's heartbeat. All Emergency Response Team (ERT) trained, the group of staff members and law enforcement traded off administering life-saving measures while paramedics and other first responders arrived on site.
Jair was transported to a local hospital where he received immediate treatment, eventually undergoing surgery to receive a pacemaker. Jair remained in the hospital for multiple days before getting the all clear to return home. On June 8, just days after his traumatic experience, he returned to school to finish his high school career.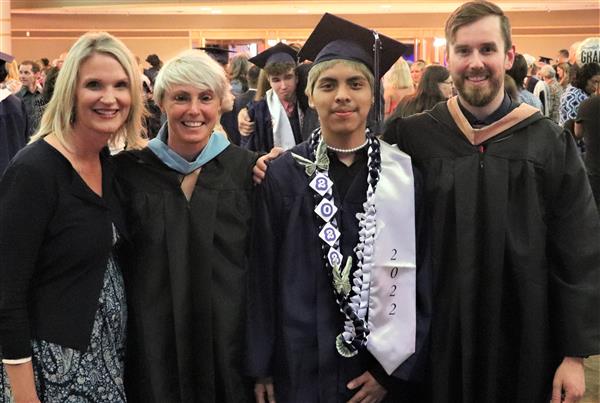 "I want to share with other families just how important it is for the schools to have people that are trained and have access to defibrillators for these situations," said Jair's mother, Maria Gamez. "The cardiologists were impressed with how fast the school and police officers acted because there was no time. From their experience, if it would have happened even 3 minutes later, he could have had brain damage or could have died.
"They went above and beyond to save my son's life. It was amazing and we're just so grateful for everyone that responded."
Now a Class of 2022 graduate, Jair has plans to attend trade school to become an electrician.
"I can already notice a difference in him," Maria said. "It's almost like he has a new outlook on life."
Both West Linn-Wilsonville staff and Wilsonville Police Officers are ERT trained in CPR and the use of AED. District staff and local first responders meet regularly to partner on school safety topics and initiatives. To learn more about emergency preparedness and response, community members are encouraged to visit the West Linn-Wilsonville and Clackamas County Sherriff's Office websites.
The City of Wilsonville contracts with the Clackamas County Sheriff's Office to provide law enforcement services to the city.
-###-